Hello Positive Prime Influencer,
Were you able to join our free webinar earlier today?
If not, take the opportunity to watch the recording!
As you all know, this is the last time in 2019 that we are opening up slots for our certification program. This is your last chance to create a Positive Prime with our awesome team! If you want to offer an incredible, easy-to-use resource to your clients, team, family or friends, you need to watch this webinar!
In the webinar we have featured Gayle Rachford's session and If you're someone like Gayle and you want to increase sales in your networking team… having your own personally branded Positive Prime session is a sure-fire way of achieving above and beyond OUTSTANDING results with your team!
Imagine what the possibilities are & potential is for you to integrate more of the leading edge scientific results from amazing research into your services & products.
If you enjoy it & see value it – and can determine for yourself how you too can LEVERAGE or TAKE ADVANTAGE – then it's not too late!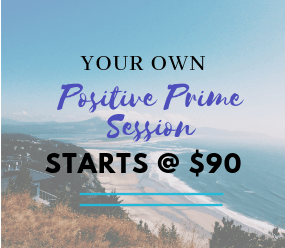 Instead of the 2019 Recommend Retail Price of $899 + $1,997 being $2,896 – together they're ONLY: a $450 TOTAL for BOTH combined or a payment plan of installments @ $90 per month…
For any questions/clarifications you can contact me directly on kim@positiveprime.com or organise a meeting via Mayumi on support@positiveprime.com… we will NOT offer "Live Certification Classes" included with a DISCOUNTED "Commercial / Professional Session" ever again!
Your own Positive Priming App (i.e. rebranded for you) promises you the opportunity to provide an elegant way to get the 'edge', the 'advantage' for those you serve. Imagine gifting people in your team… or your staff in your organisation or department a Positive Priming experience on a daily basis – by having them watch a Unique Session that is tailored & curated for YOUR goals…
Lets create an environment where everyone is at their best & contributing to make the future even brighter. If this is appealing we hope to hear from you. If you would you like to explore the potential of Positive Priming for your people make an appointment for a consultation with us.
Much Love,
Kim Serafini
CEO and Founder of
Positive Prime 
support@positiveprime.com
PS: Click here if you want to pay $90 in installments — and receive $2,896 worth of Professional Services !