Hello Positive Prime Influencer,
Robert MacPhee, the former director of Training for Jack Canfield, a Founding Member of the Transformational Leadership Council, the author of the "Manifesting for Non-Gurus" book has been a partner of Positive Prime since our early days.
Robert is currently making his Excellent Decisions Positive Prime session an important element of his
On-Line Mastery Course
and because of that he has offered to make the fully facilitated version of the course available to our community in a very unique way
What is the Excellent Decisions On-Line Mastery Course???
The Excellent Decisions On-Line Mastery Course is delivered in a simple, step by step way that starts with giving you an in depth understanding of why change can be a struggle, why it's so important to take 100% personal responsibility, and the value of knowing what your personal strengths are.
Imagine if you lived a life of increased awareness about what is required to create change, greater clarity about your vision, values and value, a willingness and ability to get out of your own way, and if you were consistently and persistently taking high leverage actions and getting lots of help… How different would your life be then? THAT is what the Excellent Decisions On-Line Mastery Course is designed to help you create.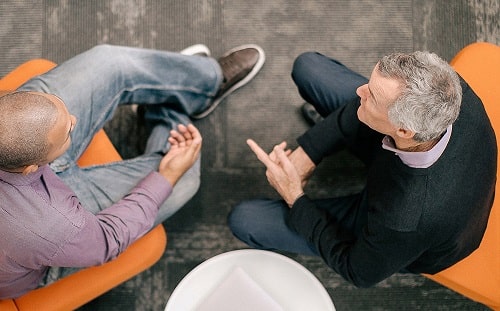 Members of the Positive Prime community (like you!) are being invited to participate in the upcoming fully facilitated version of the course for the Self-Guided price – only $97
Robert will be personally facilitating this session himself, hosting six weekly live Zoom conference calls
[all calls recorded]
where he will answer questions, offer coaching, share deeper insights, and facilitate experiential exercises related to the course content.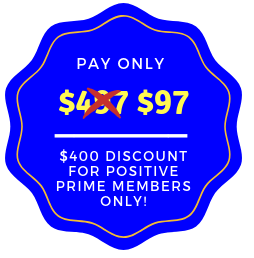 Robert will be available to participants throughout the five weeks of the course by phone and e-mail and through a Private Facebook page. This facilitated course session officially begins the week of July 22nd, and participants will get access to the course content immediately upon signing up. In order to facilitate the course in the most effective way, the number of participants will be limited.
This course will have two groups, one that will meet on Tuesday evenings and one that will meet on Thursdays mid-day, (Pacific Time).
For limited time Robert is offering his
EXPERTLY FACILITATED
"Excellent Decisions Mastery Course"
to Positive Prime members
for only $97($497 original price)
.
In this course you will get access to:
Five-Module Course
Excellent Decisions Community
Hard Cover Book and Journal
Six Group Calls with an Expert Facilitator to Guide You Through Every Step of the Course
The program originally costs $497 however because Robert loves our community, he has created a special discount for us! To use our discount coupon code, please follow the steps below:
3) On the Coupon code area, enter
PRIME
then click
Apply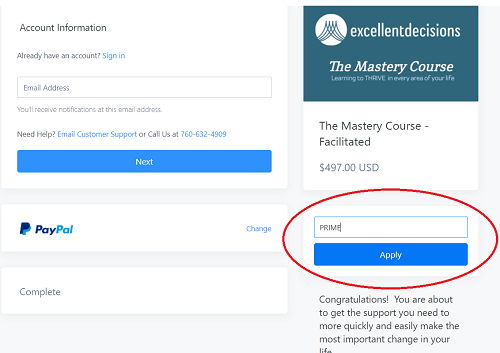 4) Enter your email address and click Next to process your payment.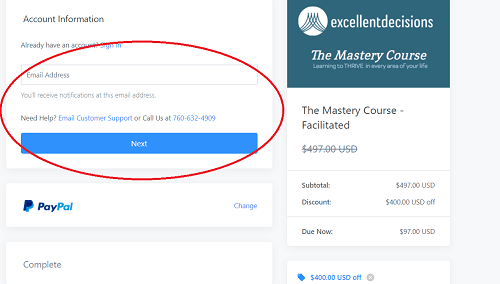 Course Bonuses:
As part of this invitation, all Prosperity Game players from the Positive Prime Community will also receive:
Signed hard cover copies of Robert's book and partner journal (US shipping included)
Access to the Excellent Decisions Positive Prime Session
Automatic enrollment in the September 2019

Prosperity Game

A 100% Satisfaction Guarantee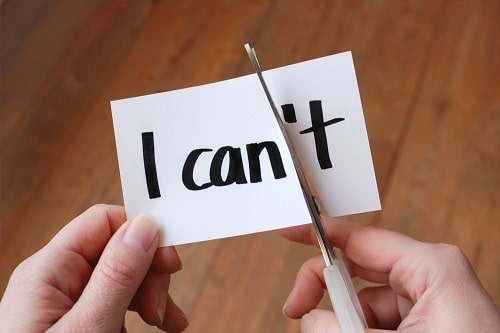 This really is an amazing course.
I have participated in it myself and I LOVED it. The course helps people who have BIG changes they want to make in one or more areas of their life.
By increasing Awareness, creating Clarity, Letting Go of Attachments, and taking Inspired Action with lots of help and accountability, the BIG changes we want to make can happen more quickly and easily and the results can LAST. It all comes down to making more "Excellent Decisions"
I would love to have you be part of this group that will together be learning and supporting each other to make more Excellent Decisions – decisions driven by our vision and values rather than stress and pressure, decisions that will help us THRIVE – achieve at a much higher level and be truly happy.

To join the July facilitated course group,
CLICK HERE

,
choose the facilitated version of the course, and use the coupon code
PRIME
to get your discount. Just reply to this message or give me a call if you have questions…
Be aware, that the classes start week of July 22nd so don't miss out on this huge discount!

Always here to support you,
Kim Serafini
CEO and Founder of
Positive Prime
support@positiveprime.com
Not the right time for you?
If you have a big change you'd like to make in your life but for whatever reason you're thinking that this course is not right for you at this time, please at least give yourself a head start on the AWARENESS part of what we teach by
CLICKING HERE
and watching
Robert's FREE "Dynamics of Change"
video to better understand why change is sometimes so hard, and why we experience resistance even when we know the change would be a good thing for us…