POsitive Prime Stories
Podcast Recording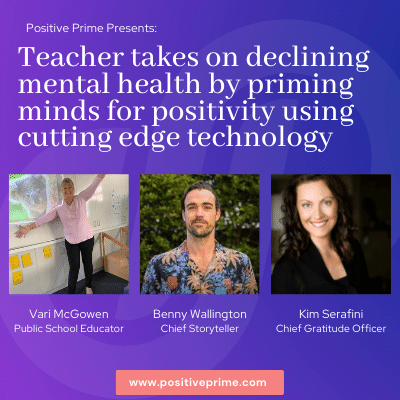 Teacher takes on declining mental health by priming minds for positivity using cutting edge technology
Over half of Australian teachers suffer from Anxiety with one in five depressed.
And although she's come through her own school of hard knocks, teacher Vari McGowen isn't in danger of becoming one of those statistics.
When Vari McGowen walks into her classroom she enters with confidence. Not only has she centered herself for the day ahead, she is also equipped to support her year one kids to settle into theirs as well….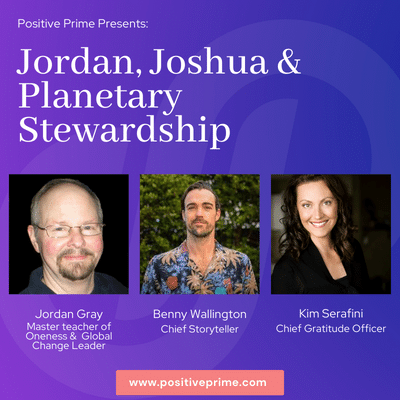 Jordan, Joshua & Planetary Stewardship
Jordan Grey has lived the life of a deep listener. As a child it was to his Grandmother who taught him how to listen into nature. After a derailment as a young adult he listened into the world of Christianity and the teachings of Christ before hearing a call beyond religion. A call he'd heard since four years old, yet never truly 'heard' and for the last forty years, he's not only been hearing, he's been cocreating.
This conversation is unlike any we have had on the Positive Prime Podcast.
Let the children play:
How letting our children play can uncover the inner-child within us all
Since the mid 50's the freedom for children to play has been continually declining. With ongoing global events and restrictions, these shackles have only been tightened. Former chef, land activist and proud Positive Primer, Linda Illsley believes this is how the light goes out for a child, so she has made it her mission to reverse the trend by guiding parents on how to get playful again.  Sitting out the back of her home in Durango, Colorado with a warm cup of tea, it's not uncommon for Linda to welcome bears into her backyard…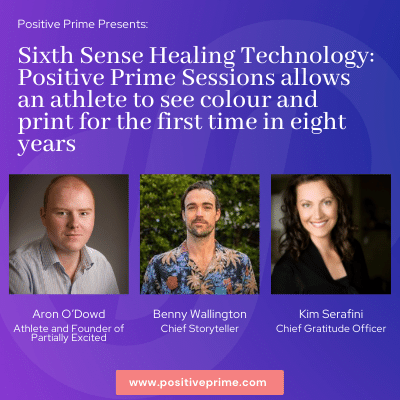 Sixth Sense Healing Technology:
Positive Prime Sessions allows an athlete to see colour and print for the first time in eight years
As a professional athlete, entrepreneur, podcast host, reiki healer, and massage therapist, doing the amazing is something that comes naturally to Aron O'Dowd. And now, with the assistance of Positive Prime Sessions he's doing things you'd have to see to believe.
Or would you?
At the age of seven, Aron was told he would be blind by 20. His doctor said that he had a hereditary condition called retinitis pigmentosa and that was that…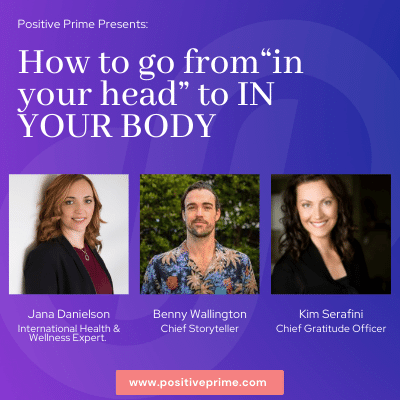 How to go from "in your head" to in Your Body!
On her way to becoming a successful business owner, inventor and author Jana Danielson had to overcome debilitating undiagnosable pain first.
This one is for anyone who has ever been told, "it's in your head" and is feeling the call to take their health into their own hands.
Health Care Excellence Canada says the third leading cause of death in Canada is misdiagnosis and this seems to be a trend across the western world. But this isn't a story about how practitioners can be tied to outdated systems.
This is a story about how Jana Danielson took her health into her own hands and now shares the fruits of that decision with the world!
Waking up the world to Hope, Harmony and Honest conversations
Jackie Simmons is on one of the most important missions of our time. Empowering dialogue with our next generation to make teenage suicide a thing of the past.
And Positive Prime is one of her biggest allies.
As a TEDx speaker, Radio Show Host, International Best-selling Author, Mindset Resilience Master, and co-founder of the Teen Suicide Prevention Society, Jackie Simmons is a force to behold.
Acknowledging that she's the grand-daughter of a preacher man, Jackie's way with words invites people into her stories so that they can make sense of their own.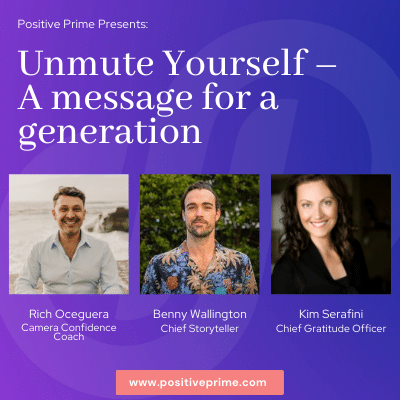 Unmute Yourself – A message for a generation
With a magnetism that inspires folks to step into their power, Rich Oceguera has made his mark on the world after finding the courage to come out of the shadows and showcase his essence on camera and stages. Now he takes that philosophy into coaching people from around the world to do the same.
In these current times we've become increasingly anxious about how we are seen. Materialism, Hollywood smiles and the necessity to be perfect has played a huge role in these insecurities and Rich is taking the role to reverse this.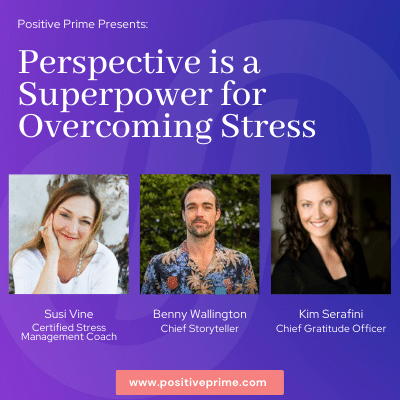 Perspective is a Superpower for Overcoming Stress
After witnessing her mother's stress as a child, Susi Vine has made it her mission to empower people to acknowledge their stress exists not only in themselves but intergenerationally, and also as a result of our environment. Susie now searches for the best tools and strategies to shift the perception of stress so that clients feel empowered to thrive under pressure and blast past what they thought possible.
Drop-in a certified stress coach with more 20+ years of positive transformation under her belt and we're all starting to feel a little bit better about it.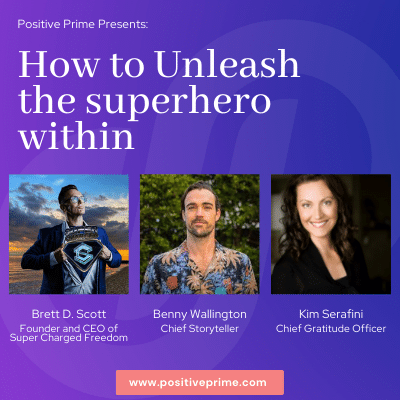 How to Unleash the superhero within
From Superman to Batman and all that's in between. Super Coach Brett D Scott has discovered his inner superhero, fighting self-doubt and self-sabotage first for himself and now guides his clients to do the same – so they can fly too.
From the age of one, Brett D. Scott wanted to be Superman.
Many of us change our perspectives as we move through life. This is a given when it comes to practising personal development and unlocking our true calling.
Success to Brett is simple, and it might not be what you think.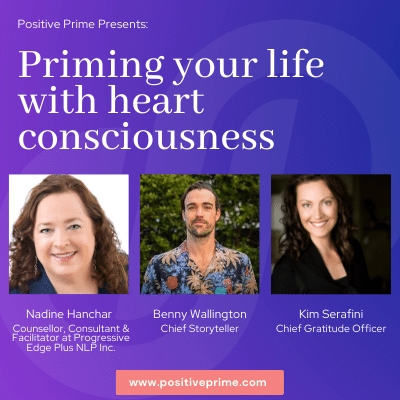 Priming your life with heart consciousness
'Listen to your heart' is something we hear in the movies over and over, but how many of us really tap into the wisdom of what some say is our most vital organ?
Through multiple setbacks, including the loss of a sibling and post-trauma care for her mother, Nadine Hanchar went on a journey from people-pleaser to finding love and respect herself. Now, as a best-selling author, personality profiling expert and professional coach, Nadine guides her students and clients to activate that same heart consciousness as she has.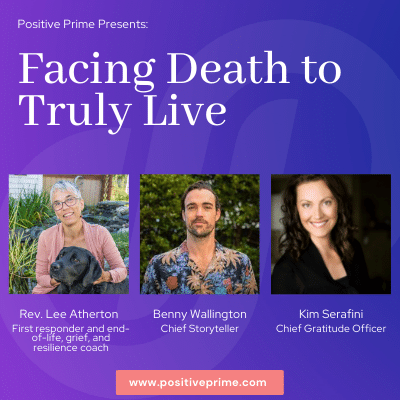 Facing Death to Truly Live
It's safe to say most of us have felt the fear of death at some point in our lives. The pain of losing a loved one or the unknowingness for what awaits us when we come to the end of our lifetime.
The fear of facing mortality is not uncommon and to face it seems to be a new frontier but to also support others through their last dance takes a special kind of human. Reverend Lee Atherton or Coach Rev as she is affectionately known, is one of those special humans and has found herself walking the path with the warmest of hearts and a pup by her side.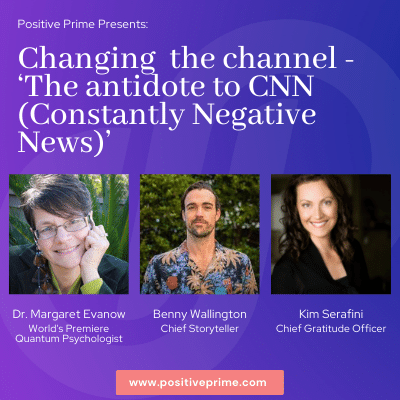 Changing the channel – 'The antidote to CNN (Constantly Negative News)'
Ever feel like you're inundated with news that makes you feel worse and worse each time you hear it? This isn't new news. We know we're a society addicted to negative news. And it's clearer we need a circuit breaker to break the pattern. Dr Margaret Evanow has found the cross-section of psychology and quantum physics as the antidote to redesign our lives, leaning into positivity both externally and internally. And it might be as simple as changing the channel…
How to reclaim your sacred rite to magic and intuition
Do you remember when you saw magic as a child? Do you ever feel like it disappeared? Imagine if we were never supposed to stop seeing it?
Imagine if it's still everywhere?
Executive trainer, business strategist and author Brenda Jacobson calls it 'innate magic' and it's been her mission to support people to reclaim this power and illuminate their lives again.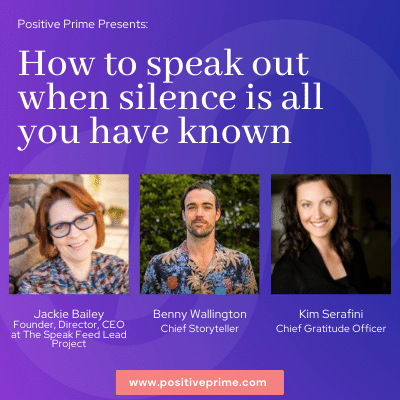 How to speak out when silence is all you have known
"Don't tell Anyone"
These are the words that catalysed Jackie Bailey's childhood. The words that held her to silence and in the dark for 30 years, meaning Jackie grew up afraid to speak.
"When I was told, don't tell anyone that changed who I was.
In social situations, I never initiated conversation because I was afraid I was going to say something I wasn't supposed to say and I was going to be in trouble for that," shares Jackie.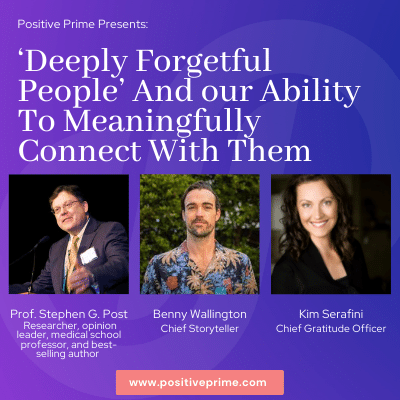 'Deeply Forgetful People' And our Ability To Meaningfully Connect With Them
Have you known someone affected by dementia or Alzheimers?
The traditional view of those experiencing these is often deeply rooted in loss and even pity. We can see the sufferers as a shell of their former selves, with little to no quality of life depending on the severity. Families may begin to visit less, anticipating that their loved one doesn't even know they've arrived.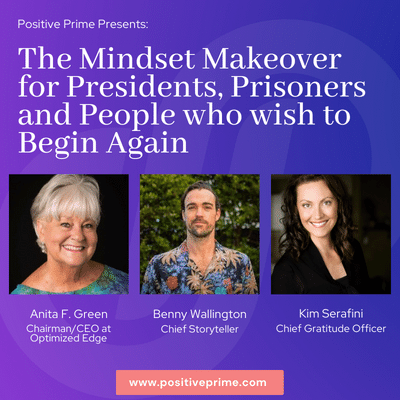 The Mindset Makeover for Presidents, Prisoners and People who wish to Begin Again
How many ways do you think you can change your mindset?
The power of our minds can be drastically understated when it comes to making changes in our lives. The way we speak, listen, think and dress has a crucial impact on our overall success in life. Success coach and men's stylist Anita Green, believes mindset and communication are everything. When it comes to helping others, she certainly doesn't pick sides.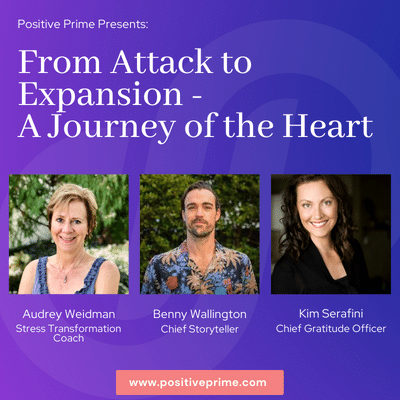 From Attack to Expansion - A Journey of the Heart

We've all experienced the stress of a negative feedback loop. It's like a round-about of worry and tension. Impending due dates, incomplete work, others relying on us, and the to-do lists! Well, they're piling up everywhere…
Until one day. For many of us, our worst fear. A heart attack.
For Audrey Weidman this was the moment that the negative feedback loop had to end, and would take her on a journey to trade it for a positive one and from a heart in turmoil to a heart full of love and expansion.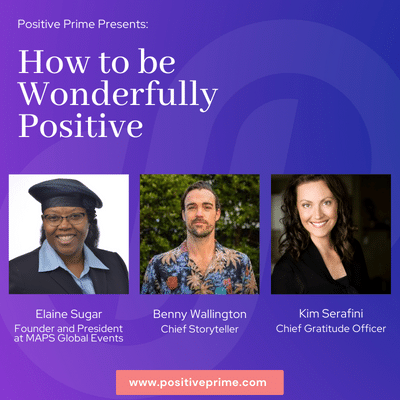 How to be Wonderfully Positive
When Elaine Sugar started to see first-hand the sea of negativity that the children of America were subject to, she knew it was her calling to do something about it. And it doesn't take much time with Elaine for it to become super clear that she's the right woman for the job.
Vibrant, wonderful and with a huge smile, best-selling children's author and founder of mental wellness events group – MAPS, Sugar brings care to her work in both community building and carving a better path to positive thinking for kids across the country.
'How can you be happy all the time?'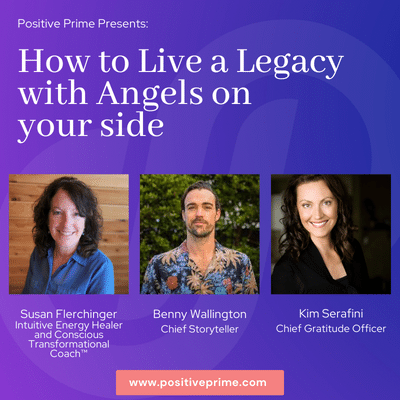 How to Live a Legacy
with Angels on your side
When Susan Flerchinger walked out on her twentieth work anniversary as a successful engineer, it wasn't the usual reason why… She loved her career, It was simply a higher calling that she could no longer ignore. A knowingness that it was her duty to follow the path and share her god-given talents with the world.
As a best-selling author, energy healer and coach for conscious transformation, Susan's path has led her to support those around her with not only an amazing outward look on life but also a powerful introspective appreciation for the talents and gifts we all inherently have. And her angels are right there to help her share the message.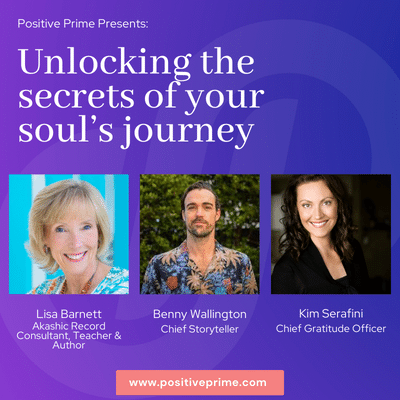 Unlocking the secrets of your soul's journey
From the age of three Lisa Barnett looked at her hands and said to her Mother 'I want to go back' 'I want to go home'. It was the first time she became conscious that she was trapped in a body. Years later she would understand she had most recently been an etheric being, without a body and had lived many lives before this one.
Fast forward to now and Lisa is the founder of the internationally renowned Akashic Knowing – School of Wisdom, and has trained 1000s of students across the world to understand and tap into this guiding power. Lisa has dedicated her life to supporting people to understand their soul's plan and supporting them on their journey through this life and maybe even set them up better for the next.
Magnetic Thinking to Create the Life You Love
It's no coincidence that international speaker, coach, and serial entrepreneur, Gunther Mueller lives in a town where the motto is 'Life and Abundance'. Anthem, Arizona is a fitting place for a man whose life has beendedicated to helping tens of thousands of people to feel what he feels and achieve their full potential.
Over the last decade, Gunther has worked closely with over 300 medical professionals, bringing life-changing therapies to their patients and improving their health, vibrancy, and overall sense of well-being amidst developing his own cutting-edge process for truly living the abundant life – The Magnetic Method.
Get in Touch
Want to learn more about Positive Prime?
We're just an email away.