POsitive Prime Stories
Podcast Recording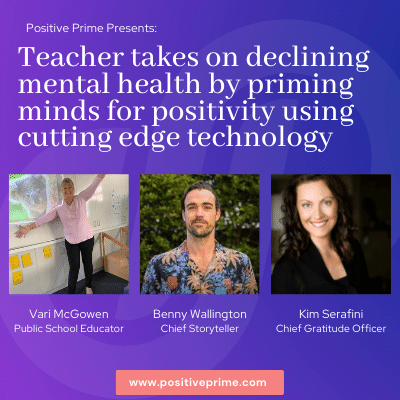 Teacher takes on declining mental health by priming minds for positivity using cutting edge technology
Over half of Australian teachers suffer from Anxiety with one in five depressed.
And although she's come through her own school of hard knocks, teacher Vari McGowen isn't in danger of becoming one of those statistics.
When Vari McGowen walks into her classroom she enters with confidence. Not only has she centered herself for the day ahead, she is also equipped to support her year one kids to settle into theirs as well….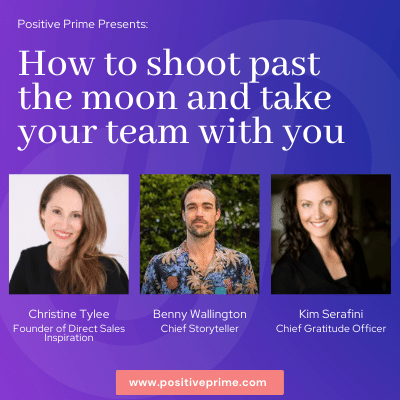 How to shoot past the moon and take your team with you
After being told she may never walk properly again , Christine Tylee decided she was going to fly instead. Fly kick that is.
On her journey to becoming an Australian Karate Champion, Christine Tylee first had to relearn how to walk and talk. Three years ago, a series of strokes and pseudoaneurysms had her doctors puzzled and left Christine needing 24/7 care. Yet, it was at this moment that she decided to make a wild promise to herself. Not only would she remain positive through this ordeal. She would become a Black Belt…
Let the children play:
How letting our children play can uncover the inner-child within us all
Since the mid 50's the freedom for children to play has been continually declining. With ongoing global events and restrictions, these shackles have only been tightened. Former chef, land activist and proud Positive Primer, Linda Illsley believes this is how the light goes out for a child, so she has made it her mission to reverse the trend by guiding parents on how to get playful again.  Sitting out the back of her home in Durango, Colorado with a warm cup of tea, it's not uncommon for Linda to welcome bears into her backyard…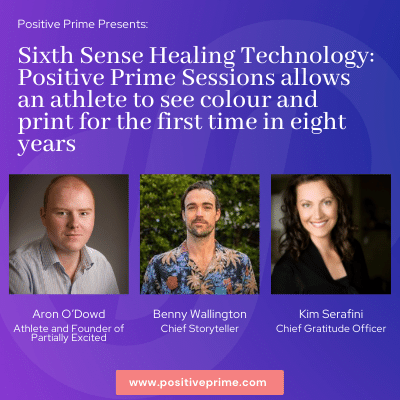 Sixth Sense Healing Technology:
Positive Prime Sessions allows an athlete to see colour and print for the first time in eight years
As a professional athlete, entrepreneur, podcast host, reiki healer, and massage therapist, doing the amazing is something that comes naturally to Aron O'Dowd. And now, with the assistance of Positive Prime Sessions he's doing things you'd have to see to believe.
Or would you?
At the age of seven, Aron was told he would be blind by 20. His doctor said that he had a hereditary condition called retinitis pigmentosa and that was that…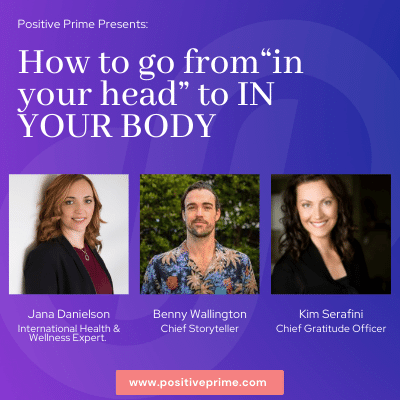 How to go from "in your head" to in Your Body!
On her way to becoming a successful business owner, inventor and author Jana Danielson had to overcome debilitating undiagnosable pain first.
This one is for anyone who has ever been told, "it's in your head" and is feeling the call to take their health into their own hands.
Health Care Excellence Canada says the third leading cause of death in Canada is misdiagnosis and this seems to be a trend across the western world. But this isn't a story about how practitioners can be tied to outdated systems.
This is a story about how Jana Danielson took her health into her own hands and now shares the fruits of that decision with the world!
Waking up the world to Hope, Harmony and Honest conversations
Jackie Simmons is on one of the most important missions of our time. Empowering dialogue with our next generation to make teenage suicide a thing of the past.
And Positive Prime is one of her biggest allies.
As a TEDx speaker, Radio Show Host, International Best-selling Author, Mindset Resilience Master, and co-founder of the Teen Suicide Prevention Society, Jackie Simmons is a force to behold.
Acknowledging that she's the grand-daughter of a preacher man, Jackie's way with words invites people into her stories so that they can make sense of their own.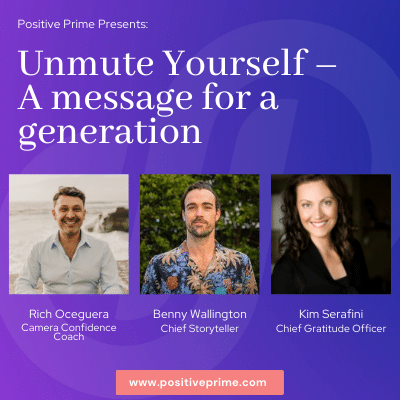 Unmute Yourself – A message for a generation
With a magnetism that inspires folks to step into their power, Rich Oceguera has made his mark on the world after finding the courage to come out of the shadows and showcase his essence on camera and stages. Now he takes that philosophy into coaching people from around the world to do the same.
In these current times we've become increasingly anxious about how we are seen. Materialism, Hollywood smiles and the necessity to be perfect has played a huge role in these insecurities and Rich is taking the role to reverse this.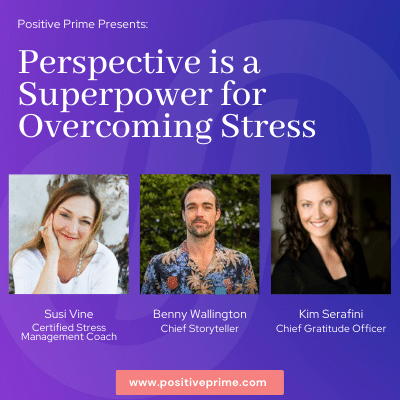 Perspective is a Superpower for Overcoming Stress
After witnessing her mother's stress as a child, Susi Vine has made it her mission to empower people to acknowledge their stress exists not only in themselves but intergenerationally, and also as a result of our environment. Susie now searches for the best tools and strategies to shift the perception of stress so that clients feel empowered to thrive under pressure and blast past what they thought possible.
Drop-in a certified stress coach with more 20+ years of positive transformation under her belt and we're all starting to feel a little bit better about it.
Get in Touch
Want to learn more about Positive Prime?
We're just an email away.